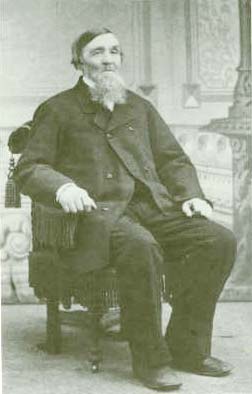 Andrew Peterson was born on October 20th 1818 in Vastra Ryd parish, in the Provice of Ostergotland in southern Sweden. His parents, Petter Jonsson and Ingrid Samuelsdotter, were farmers in Sjoarp. Andrew also worked at home and as a farm hand on other farms in the area, but after his father's death in 1846 he moved back to Sjoarp to take over the farm.
In the spring of 1850 Andrew left Sweden for North America. He left the area where he and his ancestors had lived and worked for many generations. He did not go alone, however. His sister Gustava and fourteen locals from Vastra Ryd parish went with him. There were also people from neighbor parishes in Ydre in the group of emigrants that started their long journey with Gothenburg as the first destination. In Gothenburg Andrew and the group embarked on a ship called Minona, leaving the port on May 19th 1850. Andrew was never again to see his native country.
The journey across the Atlantic was difficult, with storms, seasickness and even casualties among the passengers. We know this thanks to Andrew's diary from the crossing; a diary that has been kept for posterity. Anyway, Minona and most of her passengers survived the hardships and sailed into the port of Boston on July 2nd 1850.
Four weeks later he arrives in the Burlington district, Iowa, where he stays for 4 years. During these 4 years we have no records if Andrew wrote diary, but there are some of Andrew memory notes from this time kept in The Minnesota Historical Society Library. In this Library in S:t Paul, Minnesota are Andrew Petersons dairies from 1854 – 1898 kept.
Andrew Peterson Diaries including the Voyage 1850, from Sweden to Burlington, Iowa , and his whole settler life in Minnesota 1854-1898 are translated into American.
The translation's can be found in Minnesota Historical Society Library, in Saint Paul, and in The Swedish Andrew Peterson Society exhibition in Asby in Ydre County.
In Iowa he joined a group of newly arrived Swedish baptists. In the summer of 1855 Andrew and an important part of the congregation moved on to Minnesota Territory, which still consisted largely of wilderness and was not yet a part of the United States of America. Andrew and the rest of the Baptist congregation settled down near Clearwater Lake where they each claimed a piece of land and started their new lives as settlers. Clearwater Lake, later known as Lake Waconia, is situated in Laketown Township, Carver county, some 50 kilometers west of Minneapolis, Minnesota. The town of Waconia has gradually developed on the lake.
In 1858 Andrew married Elsa Engeman Anderson. Andrew and Elsa got 9 children, but suprisingly no grandchildren.
Andrew developed his claim of 160 acres in the former forestdistrict  to a very nice farm growing all kind of crops, raising cows, pigs, sheep and fowl,  and he developed also a great orchyard with many different varieties of apples and other fruit trees.
Andrew passed away 31 of March 1898. Two of Andrew and Elsas sons and one daughter took care of the farm together with Elsa after Andrews death.
Leaving behind a written testimony of one's life and work is of great value for posterity. It is equally valuable that there are buildings and objects left from times gone by. The well kept farm of a Swedish settler in America can contribute to maintaining knowledge of what such a life could be like. These farms are scarce in America. Many of them still exist but they're often in a miserable state of decay. There are exceptions, though. One of them is Andrew Peterson's farm.
Many of the houses he built are still there. When you look at these buildings there can be no mistake where the builder came from. If you placed the houses in Ydre they would not stand out much from other farms. Many of the tools from Andrew's days are kept in the barn and in sheds, and many of them bear witness of their former owner's native home.
The north barn is in urgent need of repair but the granary was renovated in october 2006. The Andrew Peterson Society in Sweden financed this project and it was done by voluntary help from Americans and four Swedes.
» See pictures from the renovation of the granary. (will open in the window)
The buildings tell their own story. If Andrew's old farm buildingscontain gaps in their story, the diaries make up for it. By the same token, the farm can bring life and color to the diary entries. Seen separately, Andrew's farm and his diaries are fascinating and important historical sources. Combined, they probably make up the most complete account of a Swedish settler's life in North America.
From the 1 st of December 2015 is Carver County Historical Society owner of the old buildings on Andrews farmstead in Carver County, including 13 acres of land around the buildings. If you want to see what is going on concerning the Old Farmstead click on the link below.